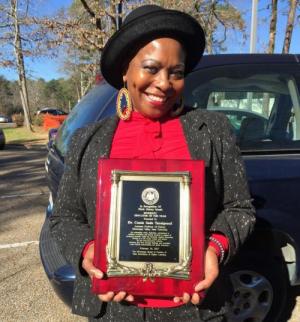 Dr. Cassie Sade Turnipseed has worked diligently to bring, highlight and educate in the realm of diversity during her time at Mississippi Valley State.
Turnipseed's hard work was recently recognized as the Mississippi Board of Trustees State Institutions of Higher Learning's Diversity Committee named her as the Diversity Educator of the Year for the state of Mississippi.
"This is a remarkable honor for Dr. Turnipseed and MVSU," said Dr. William Bynum, MVSU president.  "It is a great testament to the valuable contributions she has made at Valley to demystify the myth of a HBCU.  We are inclusive to all races and value a diverse population on our campus to promote greater dialogue to improve understanding and thought."
Turnipseed was honored at the Board's Black History Month recognition program at 9 a.m. today in Jackson. She received a plaque and resolution and was allowed a brief moment to make remarks in recognition of receiving the IHL Excellence in Diversity and Inclusion Award.
With the honor, Turnipseed expressed her gratitude and explained why pushing diversity and inclusion is so important to her.
 "One of my professional goals is to leverage the professed ambitions of the State of Mississippi, to better understand the diversity of its people. I also understand that diversity, fully engaged, not only enriches higher educational opportunities for Mississippi Valley State University students, but also enhances the capacity to develop a better appreciation for the multicultural and interdependent communities, in which we live, work and play," said Turnipseed.
The California native sees herself as many things, but is first and foremost an educator who looks at diversity as a multifaceted word.
"That word, that concept, informs me of its necessity in education and requires me to teach differently for the sake and benefit of my students," said Turnipseed. As a social observer, I am charged with seeking out the best practices for implementation of the inclusion of change," she added.
During her time at MVSU, Dr. Turnipseed has introduced to the Valley community to a slate of innovative community outreach projects and in-house programs that embrace the collective narrative of the region.
Turnipseed's most outstanding work is her ongoing research that shines a light on the sweat equity contributions of the cotton pickers of the American South.
In this effort, she initiated the ever expanding Sweat Equity Investment in the Cotton Pickers Symposium. Through the efforts of the symposium, Turnipseed has introduced a diverse audience of students, faculty and staff to a multitude of scholarly participants from Bamako, Mali; Notodden, Norway; Lagos, Nigeria; Washington, D.C.; Columbia, South Carolina; and many other states across the U.S.  
As the founding member and Executive Director of Khafre, Inc., a 501 c3 not-for-profit Mississippi based organization, Dr. Turnipseed works on a volunteer effort to lead a community driven movement to erect a monument and establish a national park in tribute to enslaved workers, sharecroppers, tenant farmers and day laborers of the cotton fields of the American south.