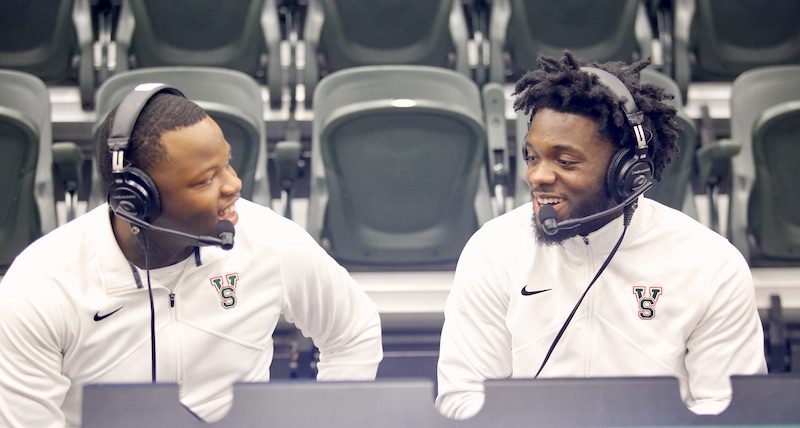 By: Donell Maxie, MVSU Communications Director 
The opportunity of a lifetime will only last as long as the lifetime of the opportunity, so when Caleb Brunson and Andre Williams Jr. had the chance to become student commentators for the Mississippi Valley State University home basketball games, the two jumped at it. 
The student duo has quickly made a name for themselves across campus and the country with their down-to-earth, raw, humorous, and engaging commentary during every live broadcast on MVSU's Sports Network on YouTube.
Caleb is a senior Biology major from Laurel, Miss., and Andre is a graduate student in the Mass Communications Convergent Media program, and he is from Memphis, Tenn.
Recently they were selected to assist in doing a live broadcast for the Birmingham Squadron of the NBA G League affiliate organization of the New Orleans Pelicans on the organization's HBCU night.
"It was a great opportunity for us. We were going viral, and we were posting on social media. I saw where the Birmingham Squadron followed me on Instagram, and I was waiting for the team to direct message me," said Andre.
When Andre did not get the message he wanted, he directly messaged the team and suggested they bring him and Caleb down to call a game. Immediately someone from the team messaged him back.
"I received a message that simply said, 'check your email' when I checked it, I saw where they had emailed us from back when they followed us and wanted to get us to come down and call a game," said Andre.
"We went down and met with Dawson Boyd, the public relations person for the team, and he set us up. They treated us great; we were paid, fed, and received first-class treatment with all access around the facility. We met everyone, and it was a gratifying experience," Caleb said. From everything they said, I think they are going to have us back again," he added.
The pair recently showed a bit of their style when they went viral on Twitter while commentating on the MVSU versus the University of Arkansas Pine Bluff Men's contest as they began freestyle rapping to celebrate MVSU's Terry Collins knocking down a three-point shot in a game that ended in a victory for the Delta Devils.
"We were in the moment, and it just happened. That's how we do it. We're just having fun and doing what we do in the room. Now we are doing it in front of thousands of people," Caleb explained.  
Caleb and Andre are friends on and off the floor, which explains the natural chemistry. When they are on air, their energy comes from an organic place, allowing them to connect and create a unique vibe during their broadcast.
"We have always done things like this in our rooms," said Andre. We can be watching YouTube or some game, and we talk about what we see or whatever's happening," he added. "As a student, we have a unique perspective on the game and the student-athletes playing in the game. We know these players on and off the court, and with this being a small campus, we do everything we can to bring positivity to our school," Andre explained.
One of the more pressing concerns for Caleb and Andre is that they feel obligated to make sure the world understands that MVSU is a great place to be a student.
"We know how some people look at the school and try to say negative things about us. So when we are on air, we try and shed light on the great things about the school and the game," said Andre.
Caleb said, "Being a student here, people may look at us a certain way, but when we are on the air, we want people to understand that regardless of the records, regardless of where we are located, no matter what we do not have, we still feel like Valley is the greatest school in the world and that's the approach we take when we call our games."
During every broadcast, Caleb and Andre will "shout out" everyone they see because they expressed that at MVSU, we are all in this together.
"We celebrate all the alums, the band, the teachers, the staff, and we always let them know that they are the best in the land," said Caleb.
In addition to having the chance to call a G League game, the two also shared how a recent controversial moment gave them insight into the world of live sports broadcasting.
"We were calling the Alabama A&M game, and we heard that the officials were about to eject one of the cheerleaders. We didn't know what was happening, but we had to remain focused and communicate what was happening," said Caleb.
"People were in the comments trying to figure out what was happening, but then the conversation shifted to, 'who are these commentators," Caleb added.
Andre said people had told them they truly enjoyed how they covered the games.
"People have told us that they come to the game but watch us on their phones for the commentary," said Caleb.
With the success of what they are experiencing, both students are convinced that sports broadcasting, commentating games, or just working in media with sports is something they strongly desire.
"I did not know what I wanted to do after I received my undergraduate degree," said Andre. I came to grad school because I was undecided and wanted to be in Memphis doing nothing. However, doing this and feeding off C.B. (Caleb Brunson) has led me to want to do this full-time when I graduate," he added.
Caleb majored in Biology because he wanted to go into physical therapy. He plans to remain at Valley for graduate school and study Sports Administration.
"I want to give myself some time now to pursue internship opportunities in the sports broadcasting field to see where it can lead," Caleb added.
The pair understands that there is a lot they must learn, but they are willing to do the challenging work it takes to improve to continue to boast that MVSU Sports Network is the Greatest in the Land.