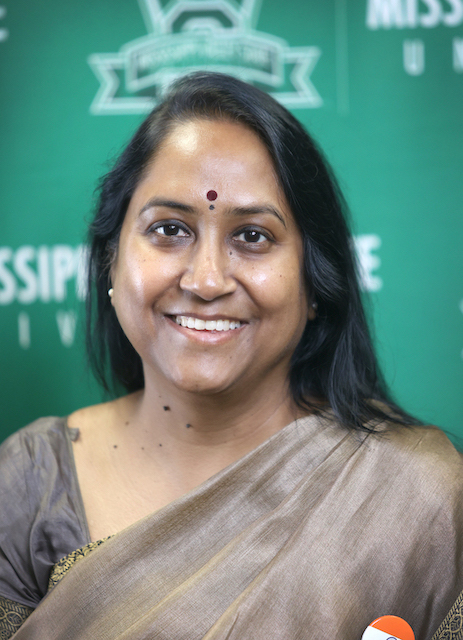 Mississippi Valley State University has been selected to host a Fulbright Scholar-in-Residence from India to teach and pursue research in the Department of Education during the 2022-2023 academic year. 
Dr. Vandana Saxena, an Education, Diversity, and Inclusion expert at CIE, University of Delhi, was selected for the Fulbright award by the Fulbright Foreign Scholarship Board.
Dr. Saxena shared her excitement at MVSU and said, "It's an amazingly friendly team of professional enthusiasts working for the students and the community. I am delighted to be a part of it, and I am looking forward to creating a mutually enriching learning ecology," Saxena said.  
The Fulbright Scholar-in-Residence Program brings visiting scholars from abroad to United States colleges and universities, helping the institutions internationalize their campuses and curricula and diversify the educational experiences of their students, faculty, staff, and surrounding community. 
Dr. Saxena is one of nearly forty Fulbright Scholars-in-Residence, and among 1000 outstanding foreign faculty and professionals who will teach and/or research in the United States for the 2021-2022 academic year through the worldwide Fulbright Visiting Scholar Program.
Dr. Saxena will teach up to two courses per semester and pursue collaborative research with MVSU faculty. She will also engage in outreach activities both within and outside the campus and support MVSU campus and curriculum internationalization efforts.
Dr. Theresa Dumas, Associate Professor/Acting Department Chair for Teacher Education, said Dr. Saxena is a welcome addition to the Teacher Education Department.
"Dr. Saxena's education and cultural diversity expertise will benefit faculty and students. In addition, Dr. Saxena will be involved in various projects promoting the advancement of Elementary Education in the Teacher Education Department," said Dr. Dumas.
"Currently, Dr. Saxena is teaching one course with the expectancy of teaching two courses during the Spring 2023 semester. Over a short time, Dr. Saxena has adjusted well to the ambiance of the department. She is excited about teaching ED 302 Educational Psychology and becoming familiar with the students enrolled in her course," said Dr. Dumas. I look forward to an extended and collegial partnership with Dr. Saxena," Dr. Dumas added.
The Fulbright Program is the U.S. government's flagship international academic exchange program. It is funded through an annual appropriation from the U.S. Congress to the U.S. Department of State's Bureau of Educational and Cultural Affairs (ECA). Participating governments and home and host institutions, corporations, and foundations worldwide also provide direct and indirect support to the Program, which operates in over 160 countries worldwide.
Since its inception in 1946, over 400,000 people from all backgrounds — students, scholars, teachers, artists, and professionals — have participated in the Fulbright Program and returned home with an expanded worldview, a deep appreciation for their host country and its people, and a new network of colleagues and friends.
Fulbright alums have become heads of state, judges, ambassadors, cabinet ministers, CEOs, university presidents, leading journalists, artists, scientists, and teachers. They include 61 Nobel Laureates, 89 Pulitzer Prize winners, 75 MacArthur Fellows, and thousands of leaders across the private, public and non-profit sectors.
"The Fulbright Scholar in Residence program helps us in our curriculum, campus, and community internationalization efforts. We are pleased to host Dr. Saxena. She brings a different perspective to classrooms and helps us in our initiatives to increase global awareness through campus and community outreach activities," said Dr. Lokesh Shivakumaraiah, Executive Director of International Relations.
"Although MVSU has a long history with various Fulbright programs and has hosted participants in the Scholar-in-Residence Program, Dr. Sexana is the first to have a primary placement at the University. I am confident she will be an asset to the Teacher Education Department and the University writ large. We are excited to host her and look forward to her involvement in the teaching and learning enterprise at MVSU," said Dr. Katie S. Golden, Provost/Senior Vice-President for Academic Affairs
MVSU Departments interested in applying for Fulbright Scholar-in-Residence can contact Dr. Shivakumaraiah at Lokesh@mvsu.edu or 662-254-3094. For further information about the Fulbright Program or the U.S. Department of State, please visit http://eca.state.gov/fulbright.