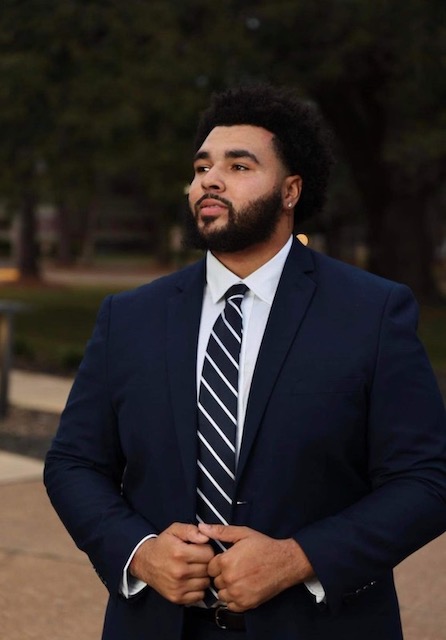 By Donell Maxie, MVSU Communications Director
Wayne Compton is an accomplished young man who, at 22 years old, has overcome severe loss but has persevered to make sure his "can do" is always greater than his "can't do."
When hearing Compton's story, several questions may arise. Questions like; "Can a person suffer from tragedy and triumph simultaneously? How does one ultimately triumph after tragedy? Can tragedy lead to triumph?"
For Compton, the answer has been a resounding YES!
On Saturday, December 10, 2022, the Alexandria, LA., native will walk across the Mississippi Valley State University stage and receive a degree in Engineering Technology emphasizing Architectural Construction Management.
Compton explained that when coming to college, he wanted to be hands-on, so he chose his major partly because he had worked in construction during high school with his uncle James Decker.
"I love Valley," said Compton. The school and my entire department prepare you for what's next. The knowledge I received is fantastic, and I feel ready for my future. My experience here made me realize that this school is what you make of it. You must use the available resources. I'm proud to have stuck it out, and now I am graduating," he added. 
Compton's graduation is the triumph, but the tragedy of his story is that when he receives his degree, he will do so with a heavy heart, having lost two brothers and a sister, two of whom died within a year of one another.
On February 7, 2021, Compton's sister Destiny and her best friend Ashley, both 19 years old at the time, were killed by Ashley's then 19-year-old boyfriend, who is now in prison for the murders. Additionally, in February of 2022, Compton's older brother Matthew Ventress, 31, committed suicide. Compton also shared that in 2016 he had a brother named Anthony Ventress, who died of a heart attack at 24 during surgery.
On his journey to healing, Compton found peace and strength from his mother's resilience and attended family therapy.
"When I think about it, there have been times when it felt like it was too much, but my mother (Chasity Compton) has been strong, and I have yet to see her give up. I lost three siblings, but she lost three kids, and every day, she wakes up and continues to be strong. So, I have no reason to quit. My mother is my inspiration," said Compton.
To keep his sister's legacy alive, Compton began working with Erica A. Draine, the Project Coordinator for the Campus Violence Prevention & Intervention Program.
"My work with domestic violence was not on my agenda, but God works in mysterious ways. After the incident happened, I knew it was something I wanted to do to ensure I helped in working to prevent it from happening on our campus," Compton said. Football didn't seem important anymore, so I dedicated myself to being an advocate where I could."
Compton originally came to MVSU to play football in 2018. He played on the defensive line and was one of Coach Vincent Dancy's first recruits as MVSU's head coach. 
When speaking about Compton, Draine said that when she met him, he was reticent, dealing with his emotions from what had happened to his sister, but he soon found his voice.
"I am very proud that he took his tragedy and turned it into an impactful statement. I have written recommendations for scholarships for him; he has spoken out and even appeared and spoke on webinars since then," Draine added.
Compton's goal in working with domestic violence agencies is to help leave a legacy in honor of his sister by serving and helping as many people as possible. 
When Compton's older brother died from suicide, he started what is known on campus as "Mental Health Mondays" or "Making a Change Mondays."
Compton's non-profit organization is called "Making a Change," In his last semester at MVSU, he wanted to implement something that can continue to help students in the future.
"Each Monday, we meet in the R. W. Harrison Complex in Room 58, and I am thankful to Dr. (Gloria) Ross for allowing us the space to meet. Our meetings are student-led and create a safe space to allow students to come and be themselves," said Compton. Students can share any mental health concerns they have and receive support from other students," he added.
"Helping students to get through what they are experiencing is why we are here and why I wanted to create a safe space for them. I am not a licensed therapist, so I partnered with Ms. Draine, who provides professional assistance. I am just there to be a listening ear to be that person who has been through a great deal and has experience in overcoming, and that's where I came into the picture," he explained.
After graduation, Compton says he has several job opportunities for domestic violence prevention and construction. "Right now, I am waiting to see where my heart takes me."
"I would like to encourage any student to know that what does not break you only strengthens you. Therefore, you must always keep going and allow your testimony to be what makes you and not what breaks you," said Compton.
Compton is a proud member of Alpha Phi Alpha Fraternity, Inc., Zeta Phi Chapter, and he is thankful to them for their support. In addition, he also shared that he has two brothers, Terrance Stewart (33) and Christopher Ventress (32).