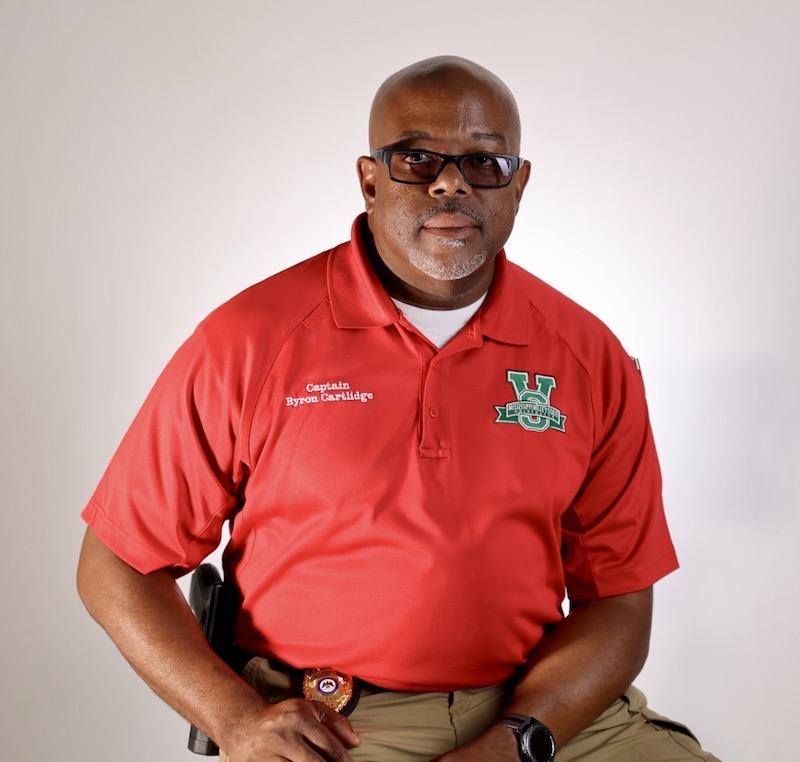 Mississippi Valley State University is excited to announce the hiring Byron Cartlidge as the new University Police Chief.
Cartlidge, a native of Greenville, MS., has 15 years of experience in law enforcement and has served as a captain with the university police over the past four and a half years. He replaces Xavier Redmond, who retired in June.
Cartlidge is a 2003 graduate of MVSU with a Bachelor of Science Degree in History. He is currently working on his master's in sports administration from MVSU. In 2021, Cartlidge was awarded the Valley in Motion Award, an accolade given by President Briggs to various employees from different units of service on campus.
Cartlidge said being named police chief is a dream come true for him as an alum and as a person who grew up around MVSU.
"I believe as an officer; it's always a goal to work to be named a chief at some point in your career. Now that I am here, it's my top priority to ensure that the students and the campus community are safe," said Cartlidge. I have deep ties to Valley. I remember coming to games as a kid with my father (Arthur). I have always been connected to Valley," he added.
Thomas J. Calhoun, Jr., Ph.D., Vice President for Enrollment Management/Student Affairs at MVSU, said he was excited to have Cartlidge as the school's new chief of police.
"Chief Cartlidge has had a long and very successful career in law enforcement leadership. He is an officer who is especially engaged with our MVSU students, he commands the respect of the university's police force, and he is thoroughly dedicated to Mississippi Valley State University," said Calhoun. He is an outstanding choice to lead our campus safety programs as Chief of the University Police Department. I ask all university faculty, staff, students, and alumni to join President Briggs and me in congratulating Chief Byron Cartlidge on this well-deserved promotional appointment," he added.
Cartlidge said that besides ensuring overall campus safety, he will ensure his department is engaged with the students. Hence, there is an excellent level of trust between the two.
"Our department will be engaged and make sure the students understand they can talk to us. Some people dislike dealing with the police, but I want to show them something different. We are not bad people, and we are here to help, and so I will challenge our officers to have the right approach when engaged with individuals on campus,"
As captain of university police, Cartlidge said it offered him many benefits that make him poised in his new role as chief.
"Being captain allowed me to learn what I was dealing with first. It does not make the job easier, but it offers me valuable insight into the people we serve. I will be doing some of the same things I was doing already in my previous role," he said. 
Cartlidge said his expectations for his officers at MVSU are to offer quality service and strive to grow in the police field. "We will do all we can to help our officers grow. I want to show them how to invest in themselves to be the best university officers they can," he said.