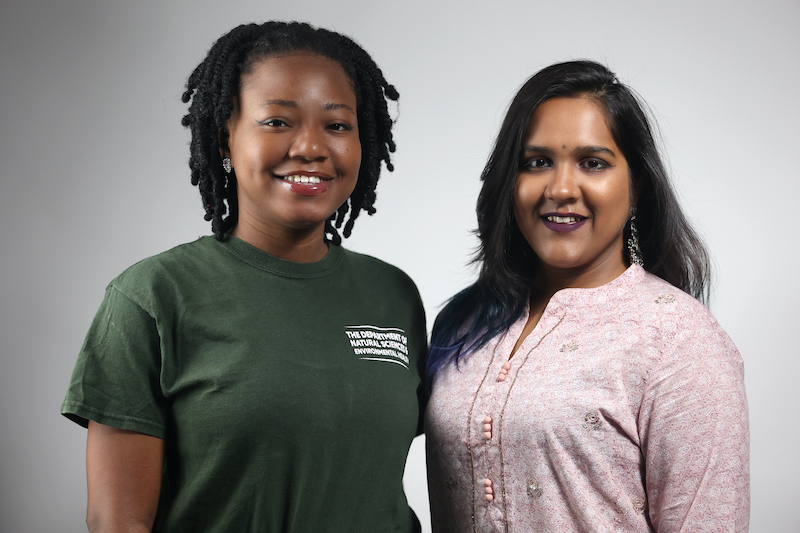 Pictured are Uchechi Nworah and Aaradhana Saxena
Mississippi Valley State University scholars Uchechi Nworah and Aaradhana Saxena won the state-wide 2023 StudyMississippi International Student of the Year award in the Undergraduate and Graduate categories, respectively.
This award recognizes the exceptional personal contributions of international students to student life and community outreach in Mississippi.
It honors international students who have excelled in campus involvement and service to the university and have impacted their peers, the broader campus, and the local community. The award competition was open for seventeen Study Mississippi member institutions across Mississippi. 
Saxena, from India pursuing a Master of Social Work degree, shared her excitement about the news.
"I am super pleased and full of gratitude for this recognition. I am hopeful that through my work, I will be able to strengthen the bond between communities across the two countries. So, again, thanks to my family, Valley, the social work department, and StudyMississippi for the honor in the State-wide 2023 StudyMississippi International Student of the Year award," Saxena said. 
Nworah, a double major in Biology and Chemistry from Nigeria, also shared her sentiments about being chosen as the 2023 StudyMississippi International Student of the Year in the undergraduate category.
"I am pleased to have been selected for the 2023 StudyMississippi Consortium International student of the year. My time at Mississippi Valley State University has been precious. I mostly enjoyed sharing my Nigerian culture with students and the community. It has been an honor," said Nworah.
Dr. Lokesh Shivakumaraiah, MVSU Executive Director of International Relations and Assistant to the Provost said, "At Valley, we provide all the opportunities for students to succeed both within and outside of the classroom to aid in their overall development. This is important to help international students to integrate into MVSU and the local community. It also helps them to share their culture and experiences with fellow MVSU students."
StudyMississippi is a consortium of accredited educational institutions in the U.S. state of Mississippi that connects international students and professionals with quality Mississippi education and training. Members include high schools, community colleges, public and private colleges and universities, and professional English language schools. StudyMississippi institutions offer a variety of degrees from which to choose and are found in rural, suburban, and urban settings. StudyMississippi is supported by the Mississippi Development Authority, U.S. Commercial Services, and the Mississippi World Trade Center.