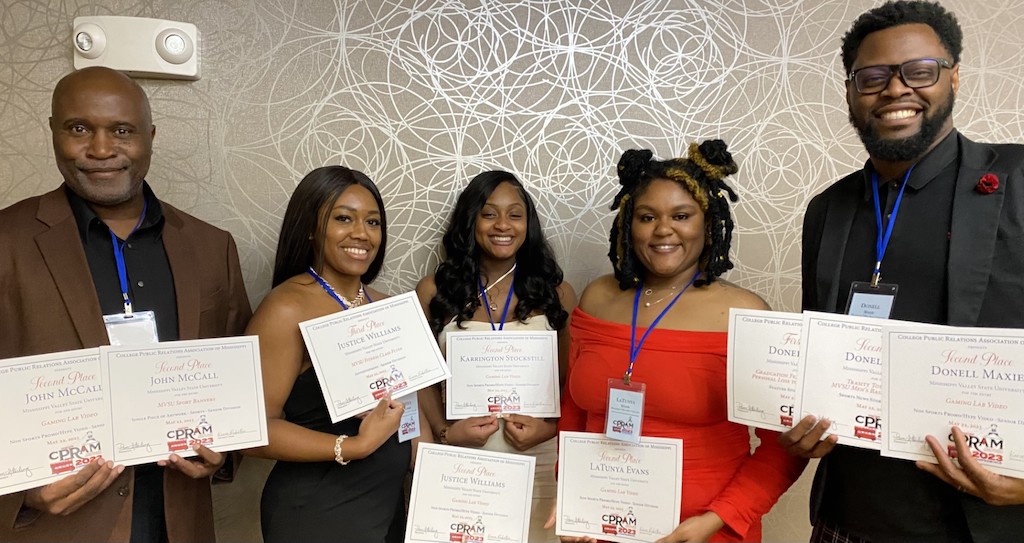 ITTA BENA, Miss.—Mississippi Valley State University's Office of Communications and Marketing team members won nine awards during the College Public Relations Association of Mississippi's (CPRAM's) Awards Ceremony held during the group's annual conference.
Additionally, Maxie has been chosen to serve on the 2023-24 CPRAM Board as a four-year college representative. 
The 2023 CPRAM Conference and Awards Ceremony was held for three days in Oxford, Miss. The CPRAM is a consortium of public relations professionals employed at Mississippi's public and private colleges, universities, and affiliated education agencies.
MVSU competed in the senior division, which includes all the state's public and private four-year colleges and universities.
Part of MVSU's Division of University Advancement, MVSU's Communications and Marketing team includes Donell D. Maxie, director; John McCall, senior graphic designer; LaTunya Evans, communications specialist; Justice Williams, associate graphic designer; and Karrington Stockstill, project coordinator/social media manager.
"I am so grateful to work with such a talented, creative team," said Maxie. "In several categories, we went up against bigger teams from larger institutions, and our team shined. I am thrilled to know we are producing top-quality work among our peers at MVSU," he added.
Maxie explained how beneficial the conference is to the communications team in providing vital professional development.  
"We were able to share ideas and learn from other public relations professionals from around the state, and we learned a great deal from the conference presenters on several topics that will help our office enhance what we already do to support and promote the university," said Maxie.
Dameon Shaw, Vice President for University Advancement, External Relations, and Information Security, said he's proud of the team for representing the university well.
"The Communications and Marketing team is a hard-working group, and I am extremely proud of the team for their CPRAM wins. They always perform well and do amazing work," said Shaw. "The support they provide to the institution is essential to the University's success, and I can't thank them enough for all they do for MVSU."
Maxie won first place for his graduation feature story on Wayne Compton in the feature story category. The judges commented on the article: "A great read that is an example of student perseverance and a college that saw his potential and encouraged him to help others through their tragedies."
Maxie also won second place for an article on Trasity Totten being named an MVSU's men's basketball assistant in the sports news story category.
The MVSU graphic designers brought home two awards. McCall won a second-place award for the MVSU stadium banners in the single piece of artwork in sports, and Williams claimed her first CPRAM award with a third-place finish for her MVSU Fitness Class Flyer. It was Williams' first competition since joining the MVSU staff in March 2022.
The team also brought home a second-place finish in the non-sports promo/hype video for their production of the new Esports gaming lab video. Maxie, McCall, Evans, Williams, and Stockstill received an award for their work on the video.