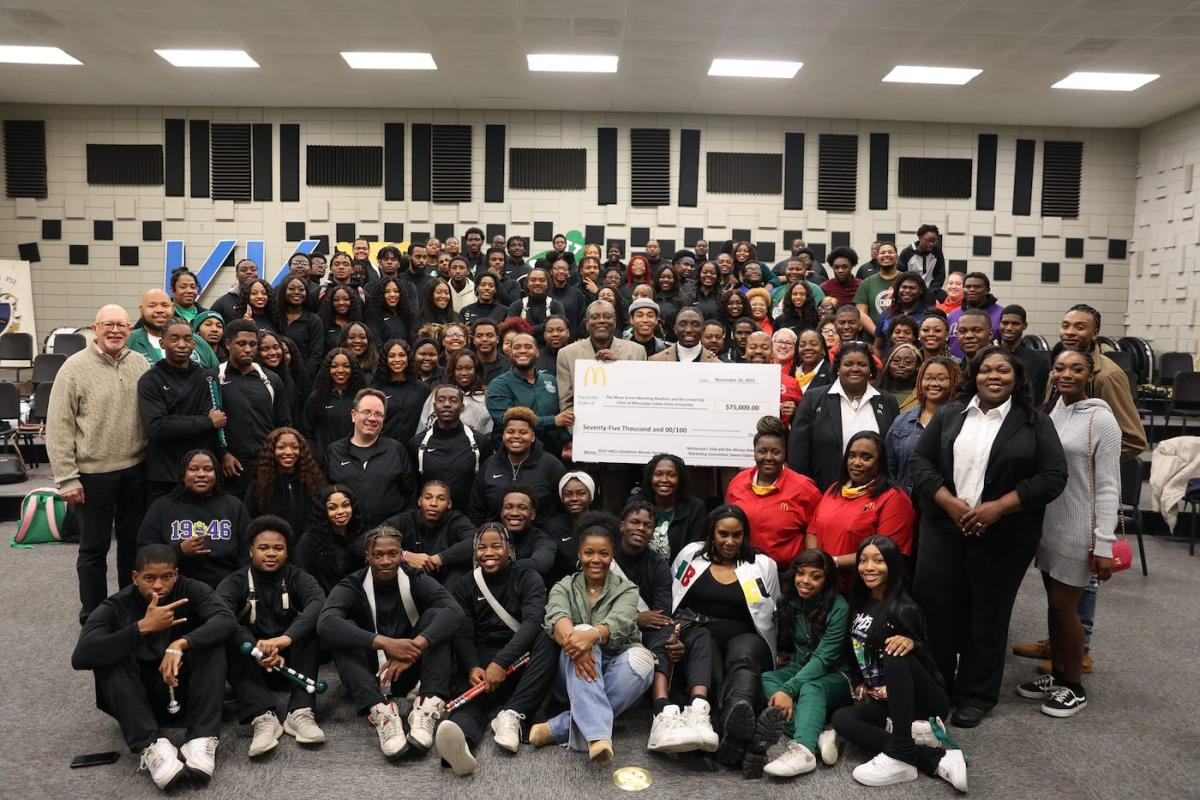 When Mississippi Valley State University Alum Tarrey Torae (96), a Grammy Award-winning artist, heard that there would be a college band/choir competition, she made sure she connected with Gospel hip-hop artist Sir The Baptist to tell him about MVSU and why the school should be included in the competition. 
Sir The Baptist looked up the school and decided it would be a great addition to the first-ever McDonald's gospel grant competition, offering over $100K in prizes to four Historically Black Colleges and Universities (HBCUs). The HBCU exhibition awarded a $75K prize to the school with the best choir or band, with each additional school taking home $10K. 
When the votes were tallied, MVSU came out as the competition's winners with their rendition of "Go Tell It on the Mountain." 
MVSU's band and choir were given the news on Friday, Nov. 18, 2022, in a surprise announcement from Kimberly Smith-Dean, operations manager for Retzer Resources in Greenville, which manages more than 100 McDonald's locations. 
Once told of the news, MVSU band and choir students erupted in cheers as hugs, high fives, and tears filled the MVSU band hall.
Dr. Jerryl Briggs, president of the university, presented the band and choir with a proclamation from Gov. Tate Reeves, recognizing their achievement. "If this is not an example of us being in motion, I don't know what is," he said. 
"I'm very excited for Mississippi Valley on this great opportunity," Dr. Brandon Cash, Director of Choral Activities/Assistant Professor of Music, said after the presentation, "the students worked hard, and they deserve this. We are thankful for alums, friends, family, and others who voted. Thank you so much." 
The Chicago-born Sir the Baptist hosted the competition and said, "The people who voted knew MVSU had it all." 
"Y'all got it together. That's why you all won. All of you stuck together," he said. 
As winners, Valley's band and choir will now perform in Houston, Texas, on Dec. 2, 2022, alongside famous artists such as Anthony Hamilton at the McDonald's Inspiration Celebration Gospel Holiday Tour Experience. 
After Torae learned that Valley would be included in the competition, she got on the phone with her friend Lashandar Johnson (95), and they worked to pull everything together on the campus of MVSU with the choir and band. Johnson also works for MVSU as the Director of Student Success and Retention. 
"We told Sir, 'Valley needs to be competing in this,'" Torae said. "We want to give as much exposure as possible to the school and inspire other people to come and get the love and education here that we got." 
"We went for all the big schools," Baptist said. "We didn't even know about Valley. It had the most support, reaction, and HBCU love, but it wasn't on my list," he added.   
He described Valley's win as a domino effect of goodness following the efforts of Torae and Johnson. "This is a huge win. You guys won this for Mississippi," he said. 
"We're celebrating Black education, arts, and excellence," said Sir The Baptist, a Grammy and BET Award-nominated DOVE and Stellar Award-winning writer, producer, and artist. 
Sir The Baptist traveled the country to connect with, film, and help inspire this year's inaugural class featuring Mississippi Valley State University, Alabama A&M University, Jackson State University, and Shaw University. Each school performed its rendition of a historical gospel hymn, such as "Wade In The Water," "Motherless Child," and "Go Tell It On The Mountain." 
MVSU was selected through a public voting round and a panel of celebrity judges, including Donald Lawrence, Kierra Sheard-Kelly, NotKarltonBanks, Samoht, and​ Smokie Norful.