ITTA BENA, Miss.—A Mississippi Valley State University faculty member was recently recognized as one of the "best and brightest" the region has to offer.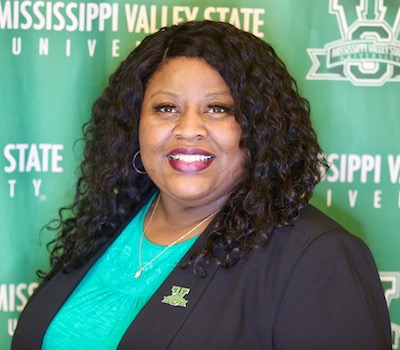 Dr. Latonya Garner, chair of Mississippi Valley State University's Mathematics, Computer and Information Sciences (MCIS) Department, was recently honored by The Delta Business Journal as one of the Top Minority Business Leaders. 
According to the Cleveland, Miss. based publication, Garner was chosen for exemplifying the qualities of leadership, experience and community involvement that define the spirit of excellence that embodies the Mississippi Delta. 
"It is an honor just to be nominated for the Delta Business Journal's Top Minority Business Leader. I am earnestly grateful for the recognition," said Garner.
"I have faced several challenges in my life, but each one of them has only strengthened me to make me the person I am today—a thorough professional who knows what she wants; someone who sets her eyes on a goal and does not lose sight of it." she added. 
According to Garner, her passion for helping and serving is fueled by her desire to impact others.  
"Inspiring others isn't easy. If you do love something dearly, you won't care how successful you are at inspiring others, and you will continue to persevere no matter how many times you fail.  It is my aim that I inspire my students to find their unique purpose and make a difference as they live a life full of passion," she said. 
Garner loves to see students succeed. She views herself as more than a department chair; she works to serve as a role model, teacher, counselor, and much more.  
"I came from the same background as many of my students, so I push them to be the best they can be in any situation," she explained. "In my department, we work to make it a family atmosphere." 
Garner exclaimed that she is incredibly proud of the MCIS students that have successfully secured internships with companies and organizations like Apple, the Department of Defense, Bank of America, Stennis Space Center, Uncle Ben's, FedEx, American Express, USDA, etc.
Professionally, Dr. Garner's vision is the betterment of MVSU, the MCIS department, and the Mississippi Delta. Under her leadership, the MCIS department has amassed over $3.5 million in grant funding. These funds have aided in establishing STEM summer enrichment programs, Teachers' clinics, Bridge to College program, Cybersecurity Camp, Coding Camp, Girls Excelling in Math and Sciences (GEMS) Academy, NASA STEM Community Day, as well as others.  
She is also the coordinator of the annual Constance G. Bland Women in Science and Technology (WIST) conference that targets over 300 middle and high school females in the Mississippi Delta and encourages them to pursue degrees and careers in STEM.
A native of Jacksonville, Ark., Dr. Garner began her career as a Certified Secondary Mathematics Teacher for Pulaski County Special School District in Little Rock. In 2007, she began her tenure at MVSU. She was appointed chair of the MCIS department in 2014. 
Garner earned a Bachelor of Science in Mathematics Education from the University of Arkansas at Pine Bluff, a Master of Science in Applied Mathematics from the University of Arkansas at Little Rock, and a Master of Science and Ph.D. in Mathematics from the University of Mississippi.
Personally, Dr. Garner is the daughter of Zeola Dixon and the late Thomas James Garner and has one son, Lance Link. 
"He is a die-hard Delta Devil and plans to attend Mississippi Valley State University to play football," she said of her son.