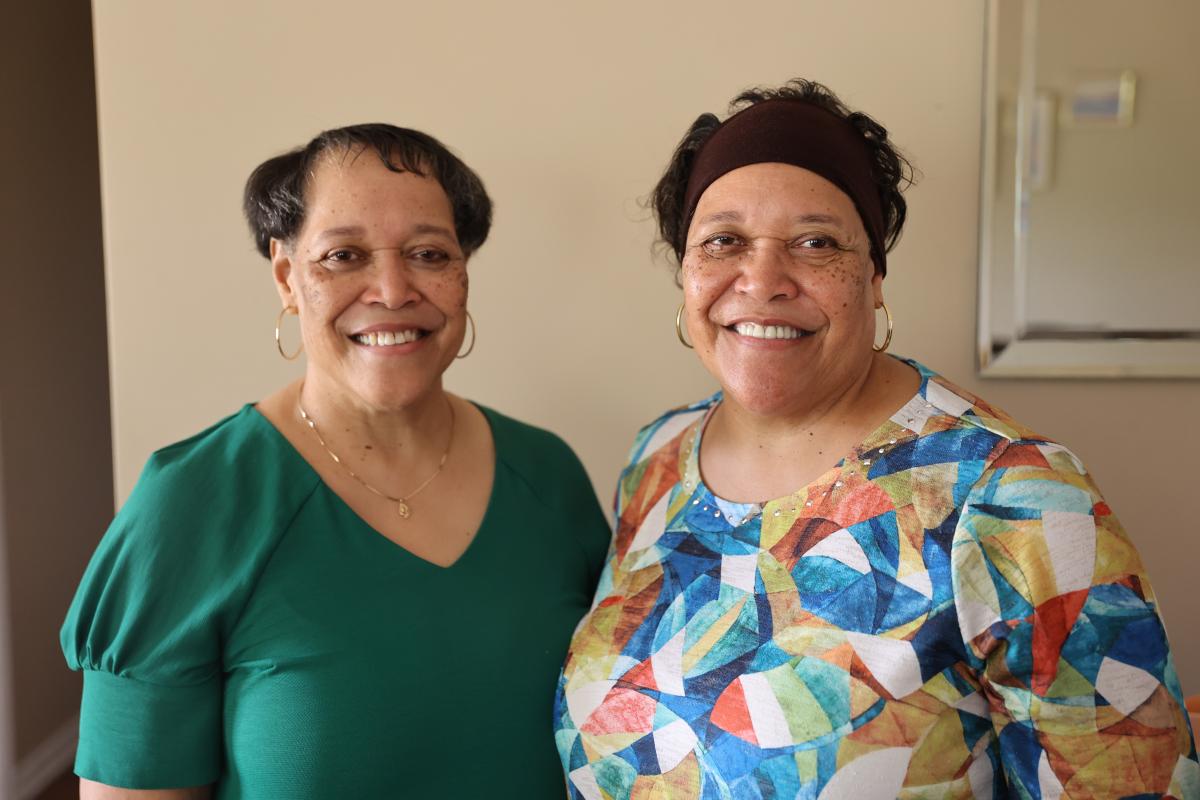 By LaTunya Evans, Communication Specialist
Mississippi Valley State University (MVSU) graduates Lillian Matthews-Hollins, and Linda Matthews-Wilson recently celebrated their 50th-year high school reunion in March, which was a great deal for the twin sisters who were not expected to live long after birth.
On September 14, 1955, a 29-year-old doctor named Clinton Battle arrived at the Matthews' home to deliver what he thought was one baby. Shortly after beginning the delivery process, Battle quickly realized that there were two babies instead of one, and they were joined together. Battle delivered the twins, and John and Missouri Matthews of Indianola, MS., became the proud parents of these special babies.
Lillian and Linda were born connected from the sternum to the navel and shared a liver. They became the first conjoined twins also known as Siamese twins to be successfully separated at just five weeks old, and both survived the surgery.
"We were guinea pigs when it came to separating us because they did not think we would survive the surgery," explained Linda.
"They were just experimenting, and luckily, we survived. They do experimental surgeries all the time, but they got it right with us," Lillian added.
After the separation, three-fourths of their shared liver was given to Linda and one-fourth to Lillian.
As they matured, the pair did suffer from frequent stomach pains, but surprisingly, they did not have to take medication.
"We had certain limitations on what we could do because of the scars where we were joined together, but we did not have to take medicine. There was no reason to," said Linda.
"But when our stomachs hurt, our mother faithfully took us to the doctor when we weren't faking," a laughing Lillian said.
To avoid chores and sometimes going to school, they would complain of nonexistent stomach pains, which their mother believed every time. While some of the complaints were fake, there were times when the pains were real, and the twins would comfort each other and "pass their pain'' between one another.
"You could look at our faces, the pain, the moaning and groaning, and know that we were really in pain. We would hold each other's hand and pass the pain off as much as possible. As we squeezed each other's hand, we would say, 'Take the pain, take the pain.' Then, when it was too unbearable, we would squeeze each other's hand and say, 'take it back, take it back,'" Linda said.
Eventually, the frequent stomach pains stopped, and Lillian and Linda could be active in sports. While in high school, the pair joined the dance and track team. Their fantastic dance skills and identical faces helped them decide what college to attend after high school.
"We chose Valley (MVSU) because we were offered a scholarship. We were on the Gentry (Indianola) dance team, and Valley came and saw the dance team. Then, we were invited to come to Valley and dance at the basketball game where they played Grambling. We danced, and Mr. (Leonard) Tremell, the band director for Valley, saw us and wanted us in his band. He offered us scholarships to come to Valley," explained Lillian.
"Once we got to Valley, I didn't want to dance because I learned he wanted us at the front of the band. He wanted to feature the twin dancers, but I was not interested in being in front of the band."
Since their interest was not to dance in front of the band, they decided to refrain from participating in extracurricular activities during their first year. By their sophomore year, Linda had a change of heart about dancing and convinced her twin to try out with her.
"She [Linda] wanted to go out for majorette. I was not interested because I was too small to make the line. You had to weigh a certain amount to make the line, and I was not big enough, but I decided to go out with her," said Lillian.
"She said ''Come out with me to try out. Once I make the team, you can quit.'' She was confident that she would make the team, and she did. We both did, but I was an alternate, but I turned some heads out there.
Lillian remained on the team for the remainder of the school year but quit right before the spring semester ended.
While in college, they often supported and helped one another, including in the classroom.
If there were classes that one twin had taken the semester before that the other was taking during the current semester, one would pretend to be the other twin in class since she had completed the coursework the semester prior.
"We would take classes for each other. If I had passed a class over the summer, and she [Linda] started taking that same class the following fall, I would take the class for her, and she did the same for me," explained Lillian.
That ended quickly when one twin stopped completing her end of the bargain.
"I eventually learned from a classmate that she [Lillian] was cutting my classes. They said, 'You know your sister isn't coming to class for you. You can only miss one more class before you fail the class.' You should have seen me running to the dorm to confront her," said Linda.
After confronting Lillian, Linda soon learned she had been skipping her class to lounge in bed. Both decided to return to going to their classes.
In May of 1977, Lillian and Linda graduated from Mississippi Valley State University. Lillian received her Bachelor of Arts in English, and Linda received her Bachelor of Science in Biology.
At first, Linda dreamed of becoming a nurse, but after working for her father as a substitute teacher during the Christmas break, she found her calling in teaching.
"We would sub for our dad during the Christmas break. I worked in a Special Education class for only one day, and my dad was completely shocked at some of the students' activities. Later, he told me that my calling was teaching instead of nursing and persuaded me to get my certification in Special Education, so I did. That is how I ended up in the classroom," explained Linda.
Both Lillian and Linda taught in the public schools before they retired. Linda taught Special Education for 35 years before retiring, and Lillian taught English in the West Tallahatchie School District for 33 years before retiring. Lillian and Linda gave credit to MVSU for preparing them for teaching.
"The teachers taught us well. When I began teaching, I was doing certain things, and other teachers wondered where I had learned it. It was Valley," Linda said proudly.
Linda continued to explain how one teacher from MVSU taught her significant queues to look for when dealing with parents that helped her remain safe.
"There was a teacher named Ms. Issac who was tough, but she taught us a lot. One of the first lessons she taught us was to look for how a mom carried her purse. If she walks in holding her purse at the bottom, she has something in it that might be a weapon, so be aware," said Lillian.
Lillian admitted that Ms. Isaac's advice was great, and she adhered to it. Luckily, she never had an encounter of that kind with a parent.
Lillian and Linda agreed that teaching brought them many children who were not theirs biologically but who they loved like their own.
"A few months ago, a former student came to spend the weekend with me and my husband. I enjoyed the company. It was nice. Many students have told me that I am like a second mom to them," said Lillian.
While some of their former students wanted the position of their children, both Lillian and Linda were able to have children of their own.
Growing up, people, including many of their peers, doubted their ability to have children since it was not typical for conjoined twins to have children.
"We did not know if we could have children. People would always ask us if we could have children because they believed we could not. They believed that because we don't have navels, but we do have everything else," Lillian said.
"They were not thinking of the biology of it all. Once I had my first son, I answered that question," added Linda.
Linda was the first of the twins to have children. She has three children, whom she raised with her late husband, Claude Wilson, Sr. They were married for 38 years before his passing in January 2020.
Lillian also raised two children with her husband, Howard Hollins, Sr.
There were many questions and doubts throughout their lives, but Lillian and Linda proved that miracles happen.
"The significance behind our story is that miracles do happen. They happen every day. God said let them live, and we have. We are a testimony to what he is capable of," Lillian and Linda explained together.